Acton Leisure Centre, Ealing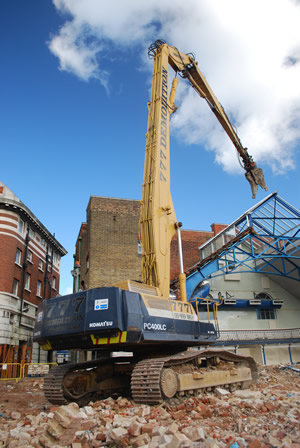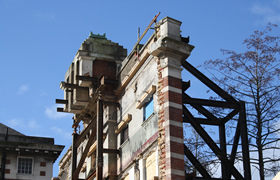 Project Summary
| | |
| --- | --- |
| Client: | Willmott Dixon / LB Ealing |
| Sector: | Leisure |
| Location: | Ealing, London |
| QS: | EC Harris |
| Contract Value: | £975,000 |
| No. of Units: | N/A |
| No. of Floors: | 4 |
| Demo Period: | 16 Weeks |
| Completion Date: | November 2012 |
Demolition and Dismantling specialist 777 Group has recently completed a four month project in West London, undertaking the controlled demolition and facade retention of Acton's Council's Town Hall and Swimming Baths Facility.
The landmark building originally housed two swimming baths which were built in 1904. The imposing Kings Rooms structure which connected the baths to Acton High Road was added in 1926 and consisted of facilities including foyer, cloakroom and kitchens. In its heyday the facility was popular amongst local residents, not only as a swimming pool but also as a music venue when, during the winter months, both pools were boarded over and the area used as a dance hall.
Despite the facility's ongoing popularity with members of the public it was in desperate need of updating and in December 2011 the site was closed and a redevelopment plan initiated. This consisted of integrating a new 3-floor council amenities centre with the front portion of the original Grade II listed building. The new centre is due to house a 25 metre long swimming pool, library, gym, and fitness studios as well as offices for the local council's Families Services Departments.
As part of the site's redevelopment the original structure housing both swimming baths had to be demolished and the prominent Kings Rooms building significantly altered internally. A large section of the original Victorian facade adjacent to the high street also needed preserving.
In order to facilitate the work, 777 Group deployed a fleet of demolition equipment to delicately dismantle the antiquated structure housing the two swimming baths. Initially a pint-sized 14 tonne excavator was utilised to create space on site for a 45 tonne high-reach machine which was in turn able to fell the roofs and walls of the building in a safe and controlled manner.
A labour force was also mobilised to soft-strip door frames, skirting boards and other furnishings from the Kings Rooms to prepare for the internal re-development of the building. A heavy duty steel frame was constructed around the front portion of the site in order to preserve its imposing Victorian facade.