Police Training Centre, Sunbury-On-Thames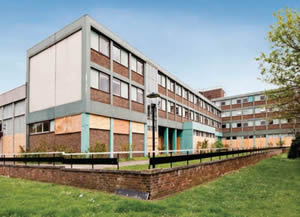 Project Summary
| | |
| --- | --- |
| Client: | Linden Homes |
| Sector: | Commercial |
| Location: | Sunbury-On-Thames |
| QS: | Linden Homes |
| Contract Value: | £185,000 |
| No. of Units: | N/A |
| No. of Floors: | 4 |
| Demo Period: | 14 Weeks |
| Completion Date: | February 2013 |
The removal of asbestos containing materials. The completion of a structural and condition survey of Montford House.
The demolition of Montford House, which is a predominantly 4 storey building fronting on to Green Street with a ground level with a central core and the secondary wing of 5 storeys dropping to two storeys adjacent to West Lodge.
The Building was originally constructed in approximately 1960 on a previously green field site. The building is of predominantly masonry construction with generally reinforced concrete floors. Originally built as a Police training centre with sports and additional support facilities.
Of generally masonry construction with reinforced concrete and timber floors with slate tile roofing. The works involve the entire demolition of the building including, ground slabs and associated ancillary structures including grubbing out drainage and inspection chambers, terminating services at entry to the site and making site secure.
Challenges
The close proximity of local residents
The close proximity of residential care home
How we made a difference
Due to the sensitivity of the site's location and close proximity to residential blocks and care home, 777 adopted a rigorous stakeholder consultation methodology.
777 appreciated the particular constraints of the site and appointed a Residents' Liaison Officer to regularly update information on a micro portal website, which was accessible by the local residents, as well as conducting regular ( weekly ) coordination meetings with stakeholders to air issues regarding the project.
All project programs were published and issued to stakeholders with comments and suggestions acted upon.
Specific attention was paid to the rear ( western ) edge of the site, with additional hoarding and supervision in place to guard against potential falling debris, due to actively utilised school children's playground.